GET MORE REVIEWS
Review Generation helps you improve your business reputation, gather valuable testimonials and build stronger customer relationships.

From requesting reviews over email to suggesting them on major vertical-specific sites, Review Generation is an easy way to get more reviews for your business.
Customers like sharing their experience.
They just need to be reminded.
Many customers would happily leave a review of a business, but it's usually forgotten in the day-to-day bustle. Review Generation uses email, landing pages, and customizable widgets to make the process easier and get more reviews for businesses. If a customer has something nice to say about your client's business, make it a quick and painless experience to collect their feedback!
GATHER FEEDBACK WITH MOBILE-OPTIMIZED LANDING PAGES
Quickly Share Positive Reviews on Major Review Sites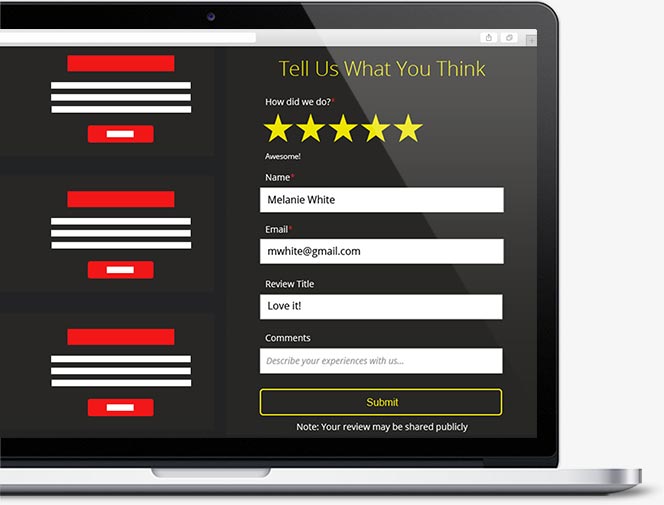 FEEDBACK REQUEST EMAILS: SINGLE OR BULK
Send an email to request feedback from customers on a one-by-one basis or upload a spreadsheet to email hundreds of customers at once. Personalize the email design and content with your client's own HTML templates.


GATHER FEEDBACK WITH THE MOBILE-OPTIMIZED LANDING PAGE
Collect reviews from a mobile-responsive branded My Listing page. This search engine-optimized page is a great way for customers to leave a review about your client on-the-go.


FREE MOBILE-OPTIMIZED LANDING PAGE
Embed this widget anywhere on your client's website to collect customer feedback, reviews, and testimonials. Customize the colors and simply paste the widget code into the HTML of the desired site.


GET REVIEWS ON MAJOR AND INDUSTRY-SPECIFIC REVIEW SITES
When a customer submits a review, Review Generation gives them links to quickly share that review on major review sites like Google and Facebook, and/or vertical-specific sites like Edmunds and TripAdvisor.
Review Generation helps you improve your business ranking, gather valuable testimonials and build stronger customer relationships
Identify how your clients can improve | Encourage SMBs to engage with reviews and show they care. | Get reviews to promote on your clients' websites | Build stronger customer relationships (or save relationships)
GET STARTED WITH A FREE CONSULTATION CLICK HERE!